EOJP and Faith Christian Academy combine to build new Home Field Experience
First, how about our Outstanding, home town Orlando Predators starting the AFL season 5 – 0! Did you know this is the Orlando Predators 25th Anniversary Season? And they look like a championship caliber team!!!
Next, the EOJP and our partner Faith Christian Academy have a combined vision to build a new Home Field Experience. We have a goal to take the north football field and transform it with the following:
Purchasing and installing bleachers with capacity of 600 – 900
Purchasing and installing a scoreboard
Purchasing portable lights for permanent use
Purchasing a large cover / tent at the concession stand area
Purchasing a large cover / tent as a locker room for our athletes during game day
Building a 4 foot fence around the football field
Building a 6 foot fence and a installing a gate to run from the pond all the way to Curry Ford
Combining the above enhancements with our existing helmet tunnel and sound system will give the EOJP and Faith Christian Academy athletes and families a fun & dynamic Home Field Experience capable of hosting more than 1,000 fans, with more shade and improved crowd and gate control. And our goal is to have this experience ready by this Football Season!
In order to bring this Home Field Experience to our athletes and Junior Preds Nation, EOJP and FCA have begun a fundraising campaign to raise $100,000. And we NEED YOUR HELP!
EOJP and FCA have partnered with the Orlando Predators to offer a VERY COOL fundraising program. Its easy – Junior Preds nation will sell tickets to friends, family, co-workers and colleagues to 3 upcoming Orlando Predator home games:
Saturday, May 7 vs. Arizona Rattlers – (which will also be Faith Christian Academy Night at the Amway Center)
Friday, June 24 vs. Tampa Bay Storm – (which will also be Clean the World Night at the Amway Center)
Saturday, July 30 vs. Philadelphia Soul – (which will also be East Orlando Junior Predators Night at the Amway Center)
For every ticket we sell, a $5 donation will be made per ticket to our Home Field Experience Campaign!
Ticket 1 – $35 includes a lower bowl sideline ticket & $10 – 50/50 raffle
Ticket 2 – $25 incudes a lower bowl sideline ticket & $5 – 50/50 raffle
Ticket 3 – $15 includes a lower bowl endzone ticket
The 50/50 raffle will be held at Jr Predators Night on Saturday, July 30 vs. Philadelphia Soul (final home game)!
These are all great offers and a great way for us to raise money for our Home Field Experience… But guess what?!?! It gets even better!!! J
The Orlando Predators are giving each of our athletes prizes for selling tickets. So not only are we working towards an awesome home field experience, but the Orlando Predators are giving us AWESOME merchandise and prizes as an added incentive. Check out these prizes: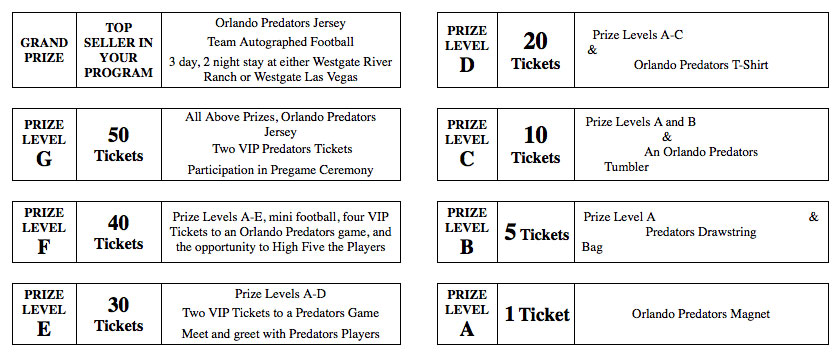 NOTE: We are giving away a GRAND PRIZE for each Jr Pred age group!! So there is a Grand Prize winner at 6U, 8U, 10U, 12U and 14U (combined cheer and football). 5 Westgate River Ranch or Westgate Las Vegas Vacations are being given away to the top ticket seller.
We have a fundraising packet for each Jr Predator family. We need EVERY Jr Pred Family to come to Academy Sports & Outdoors at 11955 E Colonial Dr. this Saturday, April 16, anytime between 10:00am – 3:00pm to pick up your fundraising packet. Your fundraising packet will include the following:
How it Works document (attached)
Prizes Document (attached)
Order form to each of the games
We will have Jr Predator board and booster club members there to explain the program in more detail.
Junior Preds Nation – we need your help. We need every single athlete and every single family participating in this ticket fundraising program. Please take this to work, school, church, to family, friends, and neighbors. Please promote it on social media and reach out to your networks in person, by email and by phone. We need 100% participation. And I know that we will do what we always do: rise up as Junior Predators, as a Team and as a Family and work as hard as possible to Deliver. In all aspects of life #HardWorkPaysOff ! I am personally asking for your support and hard work.
I will send more communications this week including more details. And we look forward to seeing each of you this Saturday at our sponsor Academy Sports & Outdoors.
Go Junior Preds!!!
Shawn Seipler
President, Jr Predators