East Orlando Junior Predator Night at Faith Christian Academy a Huge Success…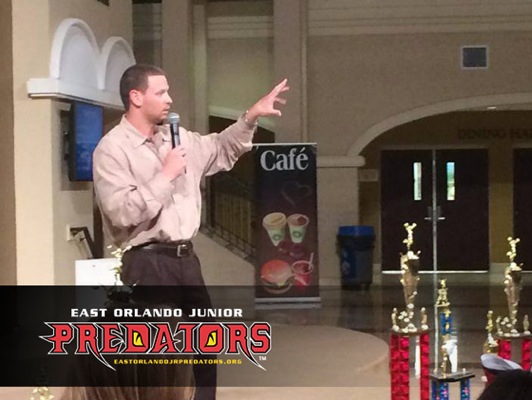 The East Orlando Junior Predators hosted one of their most successful events last Thursday at Faith Christian Academy. The night was full of big announcements and special guest, Rob Keefe, the head coach of the Orlando Predators. A large crowd listened to his inspiring speech of their commitment to our league and plans to attend our home games again this year. At the end of 2013, the Orlando Predators gave the Junior Predators a generous donation of a five man sled and $1000 to the cheer program this upcoming season.
The night continued with the announcement of the partnership with Faith Christian Academy and the Junior Predators. With construction already underway, Faith's campus on 9307 Curry Ford Road will be our new home for practice and home games this August. This merger gives the Junior Predators and Faith's middle/high school football community a chance to grow in unison. Many local families will benefit from having an even stronger youth football and cheer program in East Orlando. With the backing of the Orlando Predators and Faith Christian Academy, Junior Predator Nation continues to grow stronger in its second year of FYFCL AAU football and cheer.