East Orlando Junior Predators New and Returning Player Registration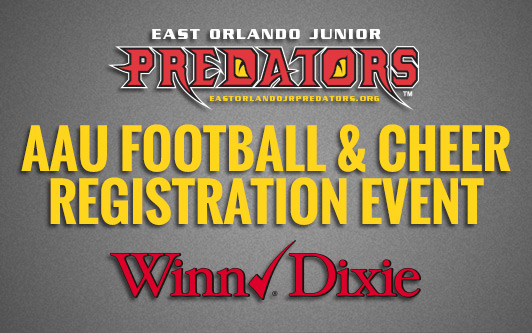 The East Orlando Junior Predators had an outstanding inaugural season and the word has gotten out. Six teams from our league competed at 2013 AAU Nationals in football and cheer. This is huge accomplishment and we now have kids (and coaches) from other teams who want to be a part of the Junior Predator Nation.
Returning players, this is the time to get registered and placed on a roster. Some teams are close to being full already. You can now save your spot and take advantage of the low registration rates until March 31. You can register online or come to the event on Sunday, February 2nd. Get forms and details here.

We would like to thank our partner, Winn Dixie for hosting this registration event.
We are proud members of AAU and the Florida Youth Football and Cheer League (FYFCL).